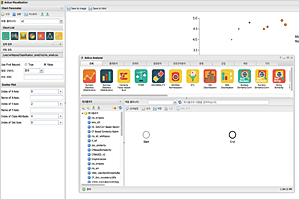 ankus analyzer
A Web GUI-Based Data Mining/Machine Learning Analysis Tool
ㆍIt supports features making it easy for everyone to perform analysis as a high-level predictive analytical tool based on big data from the user's point of view.
- It allows you to access it and to perform analysis anytime, anywhere on the Internet.
- There is no need for installing separate SW since it is based on Web browsers.
- It allows you to enjoy intuitive utilization and analysis without expert knowledge
ㆍFrom a business perspective, we disclose the source code and operate a support community so that operators can use OSS (Open Source Software), ankus analyzer, to create added value.
- Using ankus analyzer source codes allows you to develop secondary works/to create profits
- We support information sharing/technical support through our ankus community
- It is possible to customize a company using our developed/open source ankus analyzer to reflect universal requirements.